The CPPNM Amendment Magic Number is now 14!
If you've already read about the problem of insufficient international agreements, you know that there are only a couple of agreements about how we protect nuclear materials, and one needs more international support to really work. Well, we have some big news: On Friday, July 31, the United States officially ratified the 2005 Amendment to the Convention on Physical Protection of Nuclear Material. Once 14 more nations ratify the amendment (bringing the ratification number up to 2/3 of signatories), the amendment will go into full force.
This probably wasn't on the front page of your local newspaper, and that's unfortunate—because this is an important step to prevent nuclear terrorism. The CPPNM is the only international agreement that addresses the security of the kinds of nuclear materials that are used in nuclear weapons, such as highly-enriched uranium (HEU) and plutonium.
Under the original terms of the treaty, there's an alarming gap: the treaty only requires nations to physically protect these dangerous nuclear materials when they're being transported internationally—meaning that there's no obligation under this treaty for nations to protect them when they're being used, stored, or transported within their countries.
This amendment will fix that by requiring member countries to keep HEU and plutonium under physical protection (although there's an exception when they're in military hands—one of the gaps addressed by Priority #1). That means that they'll at least have to use minimum security measures, like guards, whenever they're using, storing, or transporting it—making it that much harder for the wrong people to get their hands on the most dangerous nuclear materials. The amendment also provides for more international cooperation on other nuclear security matters. There are gaps in this agreement​​—particularly that it only applies to peaceful uses like power generation, and not materials in military programs​​—but it will help protect some of the most vulnerable materials that exist today.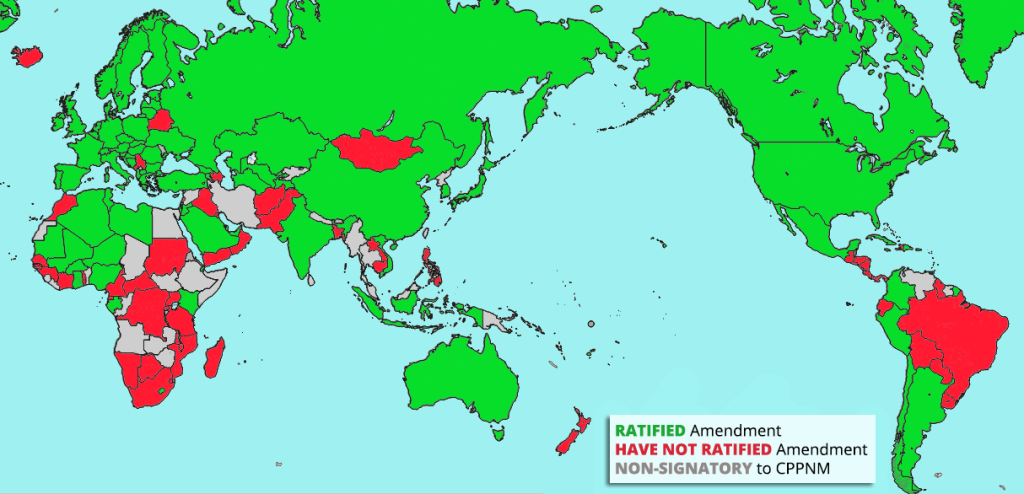 Unfortunately, the amendment won't enter into force until two-thirds of the countries that are part of the CPPNM have ratified it. With the recent addition of the United States (as well as Turkey and Italy), we only need 14 more signatories to ratify the amendment!
Here are the signatories who haven't yet ratified the amendment. If you're a citizen of one of those countries, make sure your voice is heard! Call on your government to ratify the 2005 amendment today!
Afghanistan
Andorra
Azerbaijan
Bahamas
Bangladesh
Belarus
Bolivia
Botswana
Brazil
Cabo Verde
Cambodia
Cameroon
Central African Republic
Comoros
Costa Rica
Cote d'Ivoire
Dem. Rep. of the Congo
Dominica
Ecuador
El Salvador
Equatorial Guinea
Grenada
Guatemala
Guinea
Guinea- Bissau
Guyana
Haiti
Honduras
Iceland
Iraq
Kuwait
Lao P.D.R .
Lebanon
Madagascar
Malawi
Marshall Islands
Monaco
Mongolia
Montenegro
Morocco
Mozambique
Namibia
New Zealand
Nicaragua
Niue
Oman
Pakistan
Palau
Panama
Paraguay
Philippines
Rwanda
Saint Kitts and Nevis
Senegal
Serbia
South Africa
Sudan
Swaziland
Togo
Tonga
Trinidad and Tobago
Uganda
United Republic of Tanzania
Uruguay
Yemen